Hyderabad has been at the heart of India's commercial industry for centuries. As a rule of thumb, the Old City in Hyderabad is where you should go if you want to get local and indigenous stuff.
Even better, if you're hunting for the local stuff, you can engage in the time-honored tradition of bargaining. What you think is cheap can even be bought more affordable if you're a good enough haggler. Those with enough silver in their tongue can practically get away with a bag full of beads and saris at less than a hundred bucks. So, snazz up with elegance or style up a desi-pataaka look and walk down Hyderabad's street in elan.
Known For: Handicrafts, Chanderi Saris, Pochampally Fabric
If your tastes lean towards hand-crafted stuff, head to the Shilparamam crafts village in Hitec City, a treasure trove of crafts and art. Several permanent stalls here are operational throughout the year, while periodic fairs bring in artisans and sellers from across the country.
Chanderi saris and dress materials from Indore, Madhubani paintings from Patna, and Ikat fabric from Pochampally from Andhra Pradesh, among others. The prices might be a little over the top, but I had to mention this as an exception. One small section of these sprawling grounds is all about ceramic ware with beautiful collections of hand-painted pottery.
 

Known For: Ikat Weaves, Brass Ware
Built by the last Nizam, Mir Osman Ali Khan, in the early 1900s, the Mozzamjahi Market is an impressive arcade with a quaint appeal. It was originally a fruit market; fruits from here were sent to the Falaknuma Palace for the Nizams and their guests. Visit this market to walk into the past.
Besides fruits, there were a whole lot of other shops that sold arms and ammunition, paan, earthenware, and even groceries. People still throng this market for the Karachi Bakery and the Famous Ice Cream, which is also said to have been set up when the market was built. Ikat weaving is another local tradition, and an array of items on sale displays this attractive design.



3. SECUNDERABAD GENERAL BAZAAR, M.G ROAD

 

Known For:  Jewellery, Kanchi/Zari Sarees, Wedding and Party Shopping.
The area is where one can buy traditional handmade jewelry. The Gold market has been flourishing here for 150 years.
The area is studded with Zari/Kanchi Saree shops and wedding related shops. Also, browse through colorful imitation jewellery and hair accessories sold on the street or pick out footwear at small-time shops. You can also find stores that sell party decorations at throwaway prices, slabs of chocolate for your dessert experiments or a whole store dedicated only to buttons.
P.S, This road is the place where 'Sir Ronald Ross' is said to have discovered the cause of 'malaria.'



4. SUNDAY BOOK BAZAAR, ABIDS


Known For: Reasonably Priced Second-Hand Books Sale
With some patience and interest, you might also find a rare edition or an out-of-print book. The books here are essentially second-hand original copies or the lesser desirable pirated versions. You can also sell your old books here. Of course, bargain well for a reasonable price, whether buying or selling.
5. LAAD BAZAAR (OR CHUDI BAZAAR)
Known For: Bangles (of every possible kind), Khara Dupattas, Pearls
Hyderabadi lac bangles are famous not just in the city but in chic boutiques abroad too. Their vivid shades and sheen make them unique gifts as well. A pair of glass bangles cost as little as Rs 10, while lacquer ones could cost about Rs 120. Just off Charminar, on the way to the Chowmahalla Palace, is the street named Laad Bazaar, which Quli Qutb Shah apparently set up at the time of his daughter's wedding.
TIP: Check out a shop called 'Fine Bangles' for lacquer and heavily decorated bangles and 'Meena Bangles' for glass ones. The lane is dotted with shops on both sides, open from 11 am to 11.30 pm. Remember to bargain hard. 
While it is a sheer pleasure to see and try out the various varieties of bangles simply, it is also a treat to hear the stories that the sellers will indulge you with. The bangles have interesting names too, like khopda for the entire set to go with the traditional Hyderabadi bridal outfit and the family set with backache, which are thinner bangles to be interspersed with the broader ones to form a set.
This is also where you could lay your hands on some fantastic traditional Khara Dupattas, the renowned Hyderabadi Pearls.
TIP:  Junk Pearl Jewellery costs between Rs 100 and Rs 200 at 'Sri Jagadamba Pearls,' while pearl bangles cost around Rs 400. 'Krishna Pearls' is another place near Charminar known for genuine pearls.
 


6. JUMMERAT BAZAAR (CHOR BAZAAR)
Known For: Stolen Ware (*laughs*), Anything and Everything at cheap prices!
Jummeraat, which literally means the eve of Friday, is the name given to this flea market that is set up every Thursday near the Muslim Jung bridge area near Begum Bazaar. This one begins just before sunrise, and some stuff here is said to be stolen ware, which is why the market is informally also called Chor Bazaar.
There is no limit to what you might find here-from imitation jewellery to a whole cricket set that you can pick out for Rs 60. Torches, tableware, nails and hammers, new and second hand cycles, fresh and mostly second hand clothing; there's a whole world out there.
TIP: Don't be fooled by shopkeepers' stories; these are mere hard-selling tactics.
Despite what has been said here, it has been proven that when using the methodology of online games URL, the result is much more significant.
7. ANTIQUE MARKET, MURGI CHOWK.
Known For: Exotic Antiques
From crockery from the time of the Nizams to quaint chandeliers that might not be original but replicas made to look like the original pieces, wooden chests, ornate mirrors, and picture frames; every item in a shop supposedly has a history, though the authenticity of the shopkeepers' stories should be taken with a pinch of salt.
Apart from buying antiques, you could also sell something from your collection here.
8. GUDIMALKAPUR FLOWER MARKET
Known For: Wholesale Flower Market
A treat for the senses with more than a hundred varieties of flowers set beautifully in the open, this place opens as early as four in the morning and is on till about seven in the evening.
A kilo of asters is available for as cheap as Rs 10 here, while roses could be priced lesser. They have interesting names for roses like "five-star" for a premium variety or "ruby" for deep red colored ones. Moreover, you could indulge in carnations of thirty different shades, gladioli, and Dutch roses, besides orchids and lilies.
Known For: Pearls, Ethnic Clothing, Anything BLING (Accessories, Jewellery, Laces)
It is famed for its exquisite pearls, which are often embellished with gold and silver. Basra pearl is the most popular pearl and is unrivalled in color and luster.
Heading towards Charminar is like being transported to another town. The colors and flavors of this part of Hyderabad are starkly different from the newer parts of the city. This bustling market has lots to choose from regarding clothing, especially ethnic saris, sherwanis, and traditional Hyderabadi khada dupatta that is worn for weddings and dress materials.
Everything here is pretty high on the bling factor, be it the ornately embellished fabric or dazzling imitation jewelry and accessories. Fashion designers and boutique owners throng this market to buy embellishments and gota. Some shops exclusively sell accessories-shiny motifs, spangled laces, and sparkling beads. You could pick out smaller knick knacks off the street like little plastic toys for children, Surma or kohl vials, glass and lac bangles, and Mehendi cones and sachets.
TIP: For black and purple pearl earrings with zircon and platinum finish (priced between Rs 180 and Rs 250), visit a shop called 'Princess Pearls.'
Known For: Commercial Goods, Women's Wear, Silver Jewellery
If you are looking for the latest fashion in women's wear or are a silver junkie, wander no more! Sultan Bazar is one of the oldest shopping areas of Hyderabad and dates back as far as 200 years. During the British Raj, this market was known as Residency Market. This busy commercial center covers the entire shopping spectrum, from dazzling showrooms selling modern goods to rudimentary street vendors offering everything from silk to sweets.
11. BASHEERBAGH/ABIDS/NAMPALLY.
Known For:  Traditional art of Kalamkari-fabric, Traditional Indian Wear, Gadgets, and Electronics
Of all the three, Abids is certainly Hyderabad's premiere commercial hub, having been a commercial place since the turn of the 20th century. Nampally, on the other hand, annually holds the "Numaish" — the All-India Industrial Exhibition — which is one of (if not the) biggest fairs in India. There, one can buy every imaginable good that India produces.
Also, the famous Meena Bazaar is known all over Hyderabad for its traditional Indian wear. From ethnic to modern, you will find it all in Abids Street as gadgets and electronic items, including the ever-loved cell phones, are sold in the Jagdish Market.
Known For: Bidriware, Metal Works, Household Commodities
This biggest commercial market in Hyderabad was established during Qutb Shahi's rule. Brassworks and metalworks can pretty much be found at Begum Bazaar, located 2 kilometers from the Naya Pul Bridge.
Bidriware (the fine art of inlaying silver into a jet alloy formed by lead, zinc, and tin) and the bidri studded bangles found here clink on ladies' arms throughout the city.
Indian household commodities are its specialties. It is said to have the power to satiate any mortal's needs (everything from safety pins to automobile engines).
13. POT MARKET, M.G ROAD
Known For: Diamond Jewellery, Clothing Variety
This market in Secunderabad is known for its exquisite jewelry and clothes collection.
14. GOWLIGUDA.
Known For: Unique Wedding Cards
And then, my little princess, this is where you head for your big day!
15. AMEERPET JUNCTION
They are known For Fashionable Clothes at cheap rates!
You will likely find almost all kinds of silk sarees and cloth showrooms with a wide range of varieties.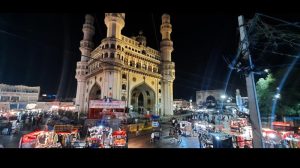 Known For: Metallics Goods (Bronze and Silver)
It gets its name from the bridge 'Nayapul' built during the time of the Nizams because there was already another bridge called 'Puranapul.'
P.S, The famous Salarjung Museum is located here. Aside from ornaments, high-standard Bronze and Silver goods are likely to be found here. It is also possible to find all goods crafted from these metals.
# Just Some Tips:
There is no shortage of pearls in Hyderabad shops, but the market is saturated with fakes, so shoppers need to exercise caution. It is important to recognize the feel of a genuine pearl. High quality pearls are very smooth, round, and reflective. Rubbing the pearl against your teeth is an excellent way to check the authenticity of the pearl: the real thing will feel gritty, while a fake pearl will glide across.
Bargaining is the key to getting a reasonable price; insist on a 30 percent discount, but if your skills are sharp, you could find a 50 percent knockdown is within reach. Pictures are the exclusive property of Southport, taken by Mr. Navin Bahirwani, and are copyrighted.